Earlier this week, Davido signed an endorsement contract with Wema Bank, which comes with the gift of a fresh new truck.
They claim that if you do nice things, they will come back to you in multiples. This is exactly what happened in the instance of Nigerian megastar David Adeleke, better known by his stage name Davido, who recently signed an endorsement agreement with WEMA Bank Nigeria after a lengthy quest.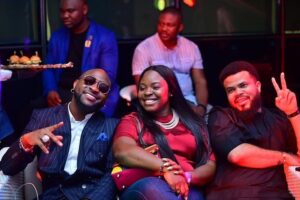 We are all aware that a couple of weeks ago, the father of three challenged his friends to donate the sum of one million nairas apiece to his Wema Bank account in honor of his 29th birthday, which is fast approaching. This quickly became a reality as a total of 201 million nairas in donations came in, well exceeding the initial goal of 100 million.
As soon as Davido declared that all of the monies, including his own personal donation of 50 million nairas, for a total of 251 million nairas, would be distributed to all orphanages in Nigeria, the internet almost came to an abrupt halt.
The news of the icon's generous deed spread like wildfire, and all media outlets, both domestic and international, couldn't get enough of it.
Earlier this week, the musician, who recently received delivery of his brand new Rolls Royce, rode in it to the Wema bank headquarters in Lagos, where the major announcement was made. According to photographs that have now gone viral on the internet, Davido can be seen surrounded by a couple of Wema Bank executives who appear to be beaming.
He ought to be congratulated.